Page 10 - Oak Shores Directory 2022
P. 10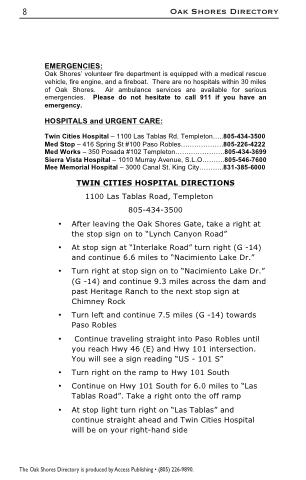 8
Oak Shores Directory
 EMERGENCIES:
Oak Shores' volunteer fire department is equipped with a medical rescue vehicle, fire engine, and a fireboat. There are no hospitals within 30 miles of Oak Shores. Air ambulance services are available for serious emergencies. Please do not hesitate to call 911 if you have an emergency.
HOSPITALS and URGENT CARE:
Twin Cities Hospital – 1100 Las Tablas Rd. Templeton.....805-434-3500 Med Stop – 416 Spring St #100 Paso Robles...................805-226-4222 Med Works – 350 Posada #102 Templeton......................805-434-3699 Sierra Vista Hospital – 1010 Murray Avenue, S.L.O..........805-546-7600 Mee Memorial Hospital – 3000 Canal St. King City...........831-385-6000
TWIN CITIES HOSPITAL DIRECTIONS
1100 Las Tablas Road, Templeton 805-434-3500
• After leaving the Oak Shores Gate, take a right at the stop sign on to "Lynch Canyon Road"
• At stop sign at "Interlake Road" turn right (G -14) and continue 6.6 miles to "Nacimiento Lake Dr."
• Turn right at stop sign on to "Nacimiento Lake Dr." (G -14) and continue 9.3 miles across the dam and past Heritage Ranch to the next stop sign at Chimney Rock
• Turn left and continue 7.5 miles (G -14) towards Paso Robles
• Continue traveling straight into Paso Robles until you reach Hwy 46 (E) and Hwy 101 intersection. You will see a sign reading "US - 101 S"
• Turn right on the ramp to Hwy 101 South
• Continue on Hwy 101 South for 6.0 miles to "Las
Tablas Road". Take a right onto the off ramp
• At stop light turn right on "Las Tablas" and continue straight ahead and Twin Cities Hospital will be on your right-hand side
-5-
   The Oak Shores Directory is produced by Access Publishing • (805) 226-9890.