Page 76 - Oak Shores Directory 2022
P. 76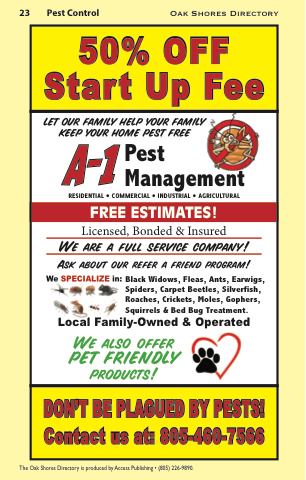 23 Pest Control Oak Shores Directory
 50% OFF Start Up Fee
  LET OUR FAMILY HELP YOUR FAMILY KEEP YOUR HOME PEST FREE
Pest
Management
RESIDENTIAL • COMMERCIAL • INDUSTRIAL • AGRICULTURAL
  FREE ESTIMATES!
Licensed, Bonded & Insured
We are a full service company! Ask about our refer a friend program!
We SPECIALIZE in: Black Widows, Fleas, Ants, Earwigs, Spiders, Carpet Beetles, Silverfish, Roaches, Crickets, Moles, Gophers,
Squirrels & Bed Bug Treatment.
Local Family-Owned & Operated
We also offer PET FRIENDLY products!
             DON'T BE PLAGUED BY PESTS! Contact us at: 805-460-7566
The Oak Shores Directory is produced by Access Publishing • (805) 226-9890.