Access Publishing launches a new magazine this year to highlight health and fitness activities in Central Coast California.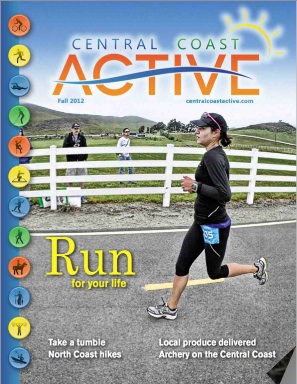 Central Coast Active
 is a guide to activities, events, training and athletes in San Luis Obispo County, CA. Featured activities include running, biking, swimming, hiking, surfing, kayaking, fishing, golfing, paddle boarding, archery, yoga, martial arts, CrossFit, weight loss, and healthy eating.
"Oprah called San Luis Obispo the happiest place in America and its no surprise why," says Scott Brennan, owner of Access Publishing. "Our county is filled with lush green hills for hiking, running and cycling and our sparkling lakes and blue ocean coastline call us to take a swim."
"We launched Central Coast Active as a lifestyle magazine for all the outdoor opportunities that abound for locals and visitors," Brennan says. "We hope it helps San Luis Obispo County remain one of the healthiest and happiest places to live in the U.S."
Publisher Scott Brennan was inspired to start the magazine after his own success running triathlons and losing weight. His publisher columns include "How I lost 75 pounds in 12 months," "Make getting active your passion," and "Running can change your life."
"Central Coast Active is an excellent solution for business advertising in San Luis Obispo County in the health and fitness industry or those companies who would like to reach this desirable demographic," Brennan says.
The new magazine is generating positive buzz. "The magazine is terrific," says Genie S. "Now that's what I'm talking about! Finally a local magazine written by and for local athletes," says Sheryl C. "It looks awesome," says Shelby K.
Central Coast Active boasts over 20,000 readers. It is delivered to racks at over 250 gyms, offices, health and fitness locations around the county. Over 1,000 copies are mailed to subscribers and businesses. The magazine is published quarterly.
Celebrated stories include: locals return the San Luis Obispo Marathon, beautiful road bike courses, profile of the Central Coast Tri-Sports Club, disc golf on the Central Coast, a profile of K-Man Cyclery, kayaking the ocean blue, hike SLO county, and connecting to weight loss.
Upcoming articles include Skydiving Pismo Beach, riding the zip lines of Santa Margarita Ranch, inspirational marathon runners, Rugby teams of San Luis Obispo County, a profile of Kevin Kennedy, founder of Kennedy Club Fitness, the health benefits of wine, upcoming races and events and much more.
Central Coast Active's premium supporters:
HFG Coastal Insurance Services
, Inc.
1446 Spring Street, Suite 205, Paso Robles, CA 93446, (805) 239-7443.
Sea Otter Inn
6656 Moonstone Beach Drive, Cambria, CA 93428, (805) 927-5888.
Bonny Hogue – KD Capital Mortgage
1305 Vine Street, Paso Robles, CA 93446, (805) 441-6400.
Marc Amesse – State Farm Insurance Agent
72 South Main Street, Ste. B, Templeton, CA 93465, (805) 434-5933.
Additional advertisers: 
A Line Chiropractic & Wellness, Athlon Health & Fitness, Cal Paso Solar Electric, Cambria Bicycle Outfitters, Castoro Cellars, Central Coast Tri-Sport Club, Chalk Mountain Golf, Coast National Bank, EarthTones, Farm 2 Fork, Fitness Can B Fun, GH Sports, Get Off the Couch Potato Sports Productions:
Go Fitness Central Coast, Kevin Forsythe, Law Offices of Kara Schacher, Momentum Paddle Sports, Opolo Vineyards, Pacific Energy Company, Paragon, Paso Robles Harvest Marathon , Pismodise, Rev SLO, Revamp Training Studio, Sea For Yourself Kayaks, Sea Horse Ranch, SLO Coast Kayaks, SLO Country Club, SLO Touch Massage, Snap Fitness, Sycamore Mineral Springs, The Luffa Farm, and The Natural Alternative.
About Access Publishing: 
Access Publishing provides local business marketing solutions. It is a local leader in online marketing, Internet advertising, local search engine optimization, SEO, SEM, web design, writing and graphic design. The Paso Robles based business, owned by Scott and Beth Brennan, has 10 creative and hardworking employees.
The company's publications include the San Luis Obispo County Visitors Guide, North County Access, Central Coast Active, Your Cambria Phone Book, Templeton Chamber Guide, Heritage Ranch Directory, and the Oak Shores Directory.
Access Publishing serves Paso Robles, Atascadero, Templeton, San Luis Obispo, Grover Beach, Pismo Beach, Shell Beach, Avila Beach, Oceano, Arroyo Grande, Nipomo, Morro Bay, Los Osos, Cambria, Cayucos, San Simeon, Creston, Heritage Ranch, Oak Shores, Santa Margarita, and San Miguel.
By Scott Brennan. Connect with him on Google

+

. Access Publishing, 607 Creston Rd, Paso Robles, CA 93446, (805) 226-9890.