Local directory connecting consumers and businesses for two decades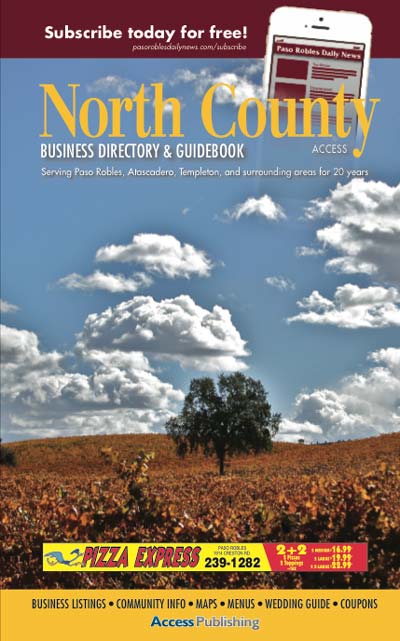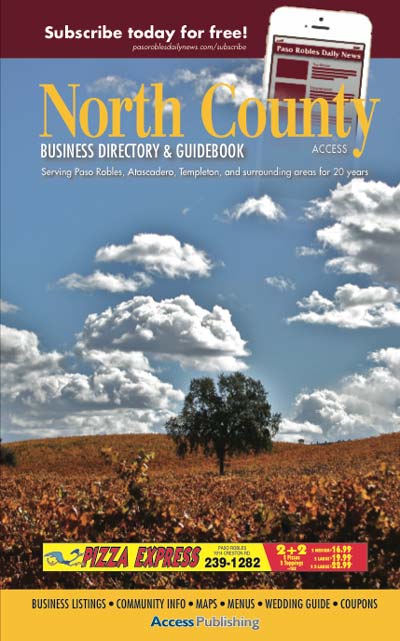 Access Publishing completed distribution of its local business directory this month to the 82,207 residents and businesses of Paso Robles, Atascadero, Templeton and surrounding areas.
North County Access is a leading source of local business information to help consumers make buying decisions.
In addition to the print edition that is delivered every year, the website
northcountyaccess.com
gets thousands of hits every month and is a top internet directory for locals.
This year marks the 21st anniversary of the first North County Access printed in 1993. "I would like to thank all the advertisers who made this year's publication a success," said Scott Brennan, CEO of Access Publishing. "It's the directory locals have used to find goods and services for 20 years and running. I would also like to thank our printer, Casey Printing, and everyone on our hardworking team who helped with the project," Brennan said.
Advertisers get results. " We get more results from Access than any other advertising we do," said Toni Elhajnasr, owner of Pizza Express in Paso Robles. "I always get a lot of coupons back from the Access yellow pages," she said.
"If you're in business around here, be sure to check out your free listing in the book and online at
northcountyaccess.com
," Brennan says. Businesses can add new listings, photos and additional information for free. Residents who prefer online directories can opt-out of home delivery at
yellowpagesoptout.com
.
Inside North County Access




Government listings


Community resources


Visitor's guide


Local maps


Advertisers inside of North County Access include: A Mobile Notary by Sally, Auto Limits Auto Repair, BK Pool and Spa Service, Cal State Auto & Truck Glass, Callie L. Fisher Insurance Services, Central Coast Casualty Restoration, Central Coast Propane, Country Florist, Deep Steam Carpet Cleaning, Edward Jones – Financial Advisor Matt Oppedahl, Five Star Rain Gutters, Frontier Floors & Window Coverings, Hamon Overhead Door Company, Hansen Enterprises, Harrington Home Furniture Outlet, HFG Coastal Insurance Services, Lisa Lu Davis, DMD, Realtor Nicolette Harley, North County Carpet and Upholstery Cleaners, North County Plumbing and Drain Cleaning, Paradise Limousine Co., Paso Robles Heating and Air, Paso Robles Safe & Lock, Pure Elements Salon, Rick Goree – State Farm Insurance Agent, Romo Septic Service, Rossi Law, Spinnaker Financial, Steve Allen – Connect Home Loans, Steve Schmidt Topsoil, Stifel, Templeton Glass, The Gifted Basket, The Mobile Oil Changers, The Tree Man, Uncorked Wine Tours, We Help You Legal, and
Wildhorse Propane & Appliance
.
"Thank you to all of our advertisers and our dedicate staff for making the book a success," Brennan said. Access Publishing's staff includes Beth Brennan, Karli Twisselman, Sarah Bolyard, DuPree Dial, Nona Cantalupo, Karen Battaglia, Sally Giordano, Noah Cryns, Meagan Friberg, and Jeannie Aisner.
Staying ahead of the online revolution
"We recognize that while we have lots of loyal readers of our print editions, many locals are looking online for information. That's why we have successfully transformed our company over the past three years to help companies connect with potential customers on the Internet," Brennan says. "We have a powerful, proven program called Access Local Search that helps local businesses dominate search results on Google, Bing, and Yahoo." Access Publishing's new online marketing solutions include the following:


Top-ranking business websites


Search engine optimization


Online display advertising


Writing and photography


Online press releases


Listing and directory management


Graphic design


History of North County Access
The first edition of North County Access was published in November of 1993 by Keith and Sheena Berwick. They operated the Country News which was later sold and consolidated with the Paso Robles Daily Press and became the Country News Press in 1996
under publisher T. Pat Cavanaugh. By 1998, North County Access was taken over by Casey Printing of King City operated by Richard and Bill Casey. They sold the business in 2006 to Scott and Beth Brennan who now publish the directory under Access Publishing as part of their many advertising and marketing solutions for local businesses.
Local newspaper veterans Nona Cantalupo and Karen Battaglia have worked for North County Access for most of it's 20 year history and continue to this day.
About Access Publishing
Access Publishing
provides local business marketing solutions. It's a leader in online marketing, Internet advertising, local search engine optimization, writing and graphic design and web design. The Paso Robles-based business, owned by Scott and Beth Brennan, has a staff of creative and hardworking employees.
The company publishes the county's leading tourist magazine, The San Luis Obispo County Visitors Guide, North County Access, The Paso Robles Daily News, Your Cambria Phone Book, Templeton Chamber Guide, Heritage Ranch Directory and Oak Shores Directory. Access Publishing is located at 607 Creston Rd, Paso Robles, CA 93446, (805) 226-9890.