Templeton Matters is the source locals look to for news, events, activities, and fun.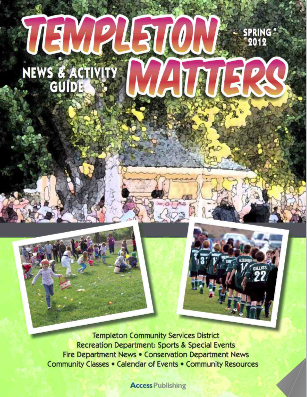 Produced in cooperation with the Templeton Community Services District, this publication reaches every family in and around Templeton, CA. That means your business will reach more than
10,000 readers!
The magazine is delivered by US mail. The upcoming issue will be out for fall and winter months. We offer competitive rates starting at $195 for a 1/8 page ad; free design and full-color are included. Check out our
flyer
. You can browse the latest issue online
here
. The deadline to be included in this issue is September 3, 2012. To reserve your space, please email me at
scott@accesspublishing.com
or call us at (805) 226-9890.
Scott Brennan, Publisher
Access Publishing
Local business marketing solutions
806 9th St., Ste. 2D, Paso Robles, CA 93446 | Map
(805) 226-9890 accesspublishing.com