Page 4 - Oak Shores Directory 2022
P. 4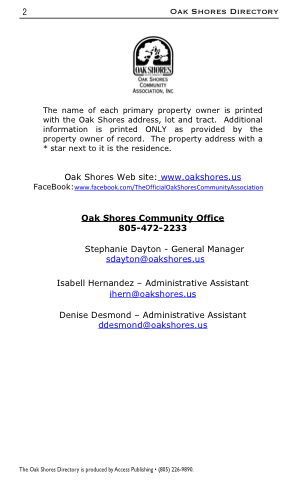 2 Oak Shores Directory
   The name of each primary property owner is printed with the Oak Shores address, lot and tract. Additional information is printed ONLY as provided by the property owner of record. The property address with a * star next to it is the residence.
Oak Shores Web site: www.oakshores.us FaceBook:www.facebook.com/TheOfficialOakShoresCommunityAssociation
Oak Shores Community Office 805-472-2233
Stephanie Dayton - General Manager
sdayton@oakshores.us
Isabell Hernandez – Administrative Assistant
ihern@oakshores.us
Denise Desmond – Administrative Assistant
ddesmond@oakshores.us
       The Oak Shores Directory is produced by Access Publishing • (805) 226-9890.