Page 6 - Oak Shores Directory 2022
P. 6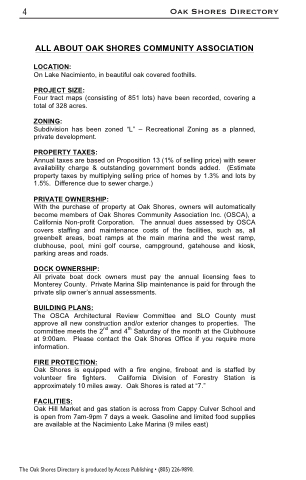 4
Oak Shores Directory
 ALL ABOUT OAK SHORES COMMUNITY ASSOCIATION LOCATION:
On Lake Nacimiento, in beautiful oak covered foothills.
PROJECT SIZE:
Four tract maps (consisting of 851 lots) have been recorded, covering a total of 328 acres.
ZONING:
Subdivision has been zoned "L" – Recreational Zoning as a planned, private development.
PROPERTY TAXES:
Annual taxes are based on Proposition 13 (1% of selling price) with sewer availability charge & outstanding government bonds added. (Estimate property taxes by multiplying selling price of homes by 1.3% and lots by 1.5%. Difference due to sewer charge.)
PRIVATE OWNERSHIP:
With the purchase of property at Oak Shores, owners will automatically become members of Oak Shores Community Association Inc. (OSCA), a California Non-profit Corporation. The annual dues assessed by OSCA covers staffing and maintenance costs of the facilities, such as, all greenbelt areas, boat ramps at the main marina and the west ramp, clubhouse, pool, mini golf course, campground, gatehouse and kiosk, parking areas and roads.
DOCK OWNERSHIP:
All private boat dock owners must pay the annual licensing fees to Monterey County. Private Marina Slip maintenance is paid for through the private slip owner's annual assessments.
BUILDING PLANS:
The OSCA Architectural Review Committee and SLO County must approve all new construction and/or exterior changes to properties. The committee meets the 2nd and 4th Saturday of the month at the Clubhouse at 9:00am. Please contact the Oak Shores Office if you require more information.
FIRE PROTECTION:
Oak Shores is equipped with a fire engine, fireboat and is staffed by volunteer fire fighters. California Division of Forestry Station is approximately 10 miles away. Oak Shores is rated at "7."
FACILITIES:
Oak Hill Market and gas station is across from Cappy Culver School and is open from 7am-9pm 7 days a week. Gasoline and limited food supplies are available at the Nacimiento Lake Marina (9 miles east)
-1-
          The Oak Shores Directory is produced by Access Publishing • (805) 226-9890.