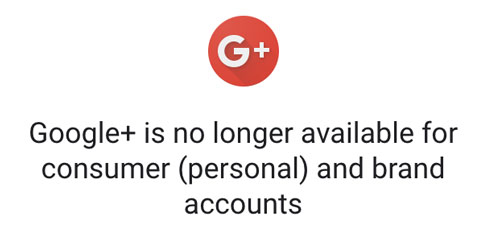 Google deletes Google+ Platform
As a local business owner, you may have recently received an email from Google letting you know about big changes going on with the
Google+ platform
– It has been shut down. Google introduced its Google+ platform in 2011 to rival Facebook, Twitter, and other social media platforms. Google+ never picked up much steam.
Google+ offered personal paged and business pages. All Google+ content was eliminated in April. This change does not affect
Google's primary search platform
.
Google is still the #1 search engine
, by a landslide, and this is why it is important to stay ahead of the curve online. Google will still be looking for information across the internet to rank your company within the normal search functions of Google. As always, our number one goal at Access Publishing is helping our clients rank in Google search, to help bring in new customers.
We are always working to keep your business information up to date and work with Google in the best possible ways on your behalf. This is a big change, but we are here to help the process go along as smoothly as possible.
We have updated our clients' online profiles, to delete the old Google+ links. Additionally, we are building new links for you on another popular platform,
Medium.com
.

We are always on the lookout for new and innovative platforms to share our clients' business information. We have ranked Medium to be a strong platform to help send signals to Google and other search engines that your company is a leader in its industry and market. Having your company information on this type of platform helps keep you in the running against the competition.
What is Medium?
Two of the founders of
Twitter
launched a new blogging platform called Medium.com. Founders stated that Medium is "a new place on the Internet where people share ideas and stories that are longer than 140 characters and not just for friends." Medium does appear to be a standard blogging platform at first glance, yet it was "designed for little stories that make your day better and manifestos that change the world." And yet "it helps you find the right audience for whatever you have to say."
We have been adding our clients' press releases, blogs, and even page content from your website to help propel
SEO
and get more valuable information out on the internet. Medium is a growing and changing platform, but we found medium.com to be a good place to post your information.
Our monthly Local Search service includes:
Localeze
We upload business information to Localeze every month so listings are marked as up-to-date. Current listings rank better than old listings. Localeze creates new listings on over 100 websites.
BrightLocal
We monitor our clients' business rankings with BrightLocal. We send a monthly report from BrightLocal. Monitoring allows us to take action and make changes to profiles and listings as needed.
Infogroup
We upload your business information to Infogroup every month to keep your business listings up-to-date. Infogroup creates new listings and provides data feeds to dozens of popular websites.
Google Maps listing
We monitor Google Maps listings and update its status to Google on a regular basis. This tells Google your information is current and accurate. We encourage clients to ask customers for reviews to improve rankings.
Proprietary listings
We maintain our clients' Optimized Business Profile and listings on several local business websites that include anchor text keywords with links to your company's website or other listings. These "links" are powerful ranking factors for the categories local businesses serve.
Google Analytics
We send monthly Google Analytics reports for our clients to review their site's traffic, referral sources, keywords and top performing pages. We review each report to monitor the sites and take action as needed.
 If you have any questions, just give us a call
Sincerely, 
Scott Brennan, (805) 226-9890