KCOY TV News shows Access Publishing's virtual tour service – Google Business Photos

Transcript of on air KCOY News segment:
"Central Coast Economy – If you've ever looked up a restaurant online and once you got there it wasn't quite what you expected, well a new Google feature is trying to help with that. 
Watch the YouTube Video.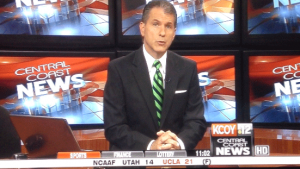 "The app that allows you to see the Street View of house and buildings on your GPS is now being used to give you a full view inside those buildings and businesses. "A local marketing company is taking photos of businesses across San Luis Obispo County to create a virtual 360-degree tour of the inside of shops like you see right there.
"Now Google has certified the company so it can sell virtual tour ads to local businesses. The company has photographed five businesses in Paso Robles. Three of which already have live virtual tours on Google listings.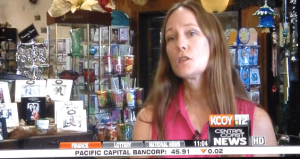 "Local flower shop Country Florist was one of the first businesses to try the service.
Country Florist Owner Kay McClain: 
"They can actually see the store online. They're not looking at fake pictures, or make believe pictures. It's exactly what we have to offer in the store. It's just like they're walking through my store with this virtual tour. "That's very cool. McClain says she thinks the tours will attract more customers to her business and help other local businesses build their online presence, which will in turn boost the local economy. And that is a good thing." KCOY TV News reporter met with Access Publishing owner Scott Brennan and his company's certified Google Trusted Photographer, Jack Erhart, Saturday afternoon to see the new Google Business Photos in action.
Watch the YouTube Video.
KCOY reporter Liberty Zabala met the staff at Kay McClain's Country Florist shop on Creston Road in Paso Robles and filmed a business news story. Zabala did on camera interviews with Erhart and McClain and spent about an hour at the flower shop to see how the new virtual tours work. "We were thrilled to be the local marketing company in KCOY's Central Coast Economy segment that talked about our new virtual online tour with Google," says Scott Brennan of Access Publishing. "People are probably asking, who is the 'local marketing company taking photos of businesses across San Luis Obispo County to create a virtual 360-degree tour of the inside of shops'. Brennan says, "It's us!"
Here is the post on the television station's website:
Paso Robles Business Uses Virtual Tour Technology To See Inside Building
PASO ROBLES, Calif. — If you have ever looked up a restaurant online and once you got there it wasn't quite like you expected, a new Google feature is trying to help with that. The technology that allows you to see the street view of houses and buildings on your GPS is now being used to give you a full view inside those buildings and businesses. A
local marketing company
is taking photos of businesses across San Luis Obispo county to create a virtual 360 degree tour of the inside the shops. Google has certified the company so it can sell virtual tour ads to local businesses. The company has photographed five businesses in Paso Robles. Three of which already have "live" virtual tours on Google listing. Local flower shop "Country Florist" was one of the first businesses to try the service. "They can actually see the store online so they don't see fake pictures or make believe pictures. Its exactly what we have to offer in the store. It's like they are walking through my store with this virtual tour," says Country Florist Owner Kay McClain. She says she thinks the tours will attract more customers to her business and help other local businesses build their online presence which will in turn boost the local economy. Original story posted at http://www.kcoy.com/story/19813765/local-marketing-company-teams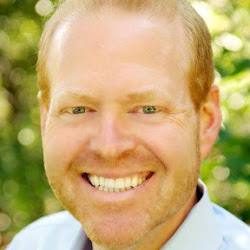 Posted by Scott Brennan
Access Publishing
806 9th Street #2D
Paso Robles, CA 93446
scott@accesspublishing.com
(805) 226-9890
Join me on Google

+