In case you missed it, or wanted to make a few more notes, here are the slides from our recent Google Seminar
Access Publishing hosted a complimentary Google Seminar to help local businesses and organizations improve their online marketing presence.
Beth Brennan
, an online marketing expert with Access Publishing, addressed more than 40 attendees about SEO – Search Engine Optimization. The seminar was Wednesday, July 11 at at the North San Luis Obispo County Association of Realtors
What is search engine optimization? "It's an internet marketing strategy that helps websites and business listings rank higher in search engine results like Google," says Brennan. "If you've ever wondered 'how do I get my business found on Google?' or 'How can I rank higher on Google?' this educational seminar will be an eye-opener," she says.
"Essentially, SEO is about writing great content that communicates important information about your business and then publishing it on your website and across the Internet," she says. "You need to tell Google who you are, what you do, and where you are located; and you need to do it effectively and repeatedly. We will show you how."
Brennan and the team at Access Publishing have given dozens of educational seminars to hundreds of local business leaders at engagements from Rotary Clubs to chambers of commerce. The company provides web design and local SEO services to over 100 businesses in San Luis Obispo County.
Here is the worksheet used in the presentation: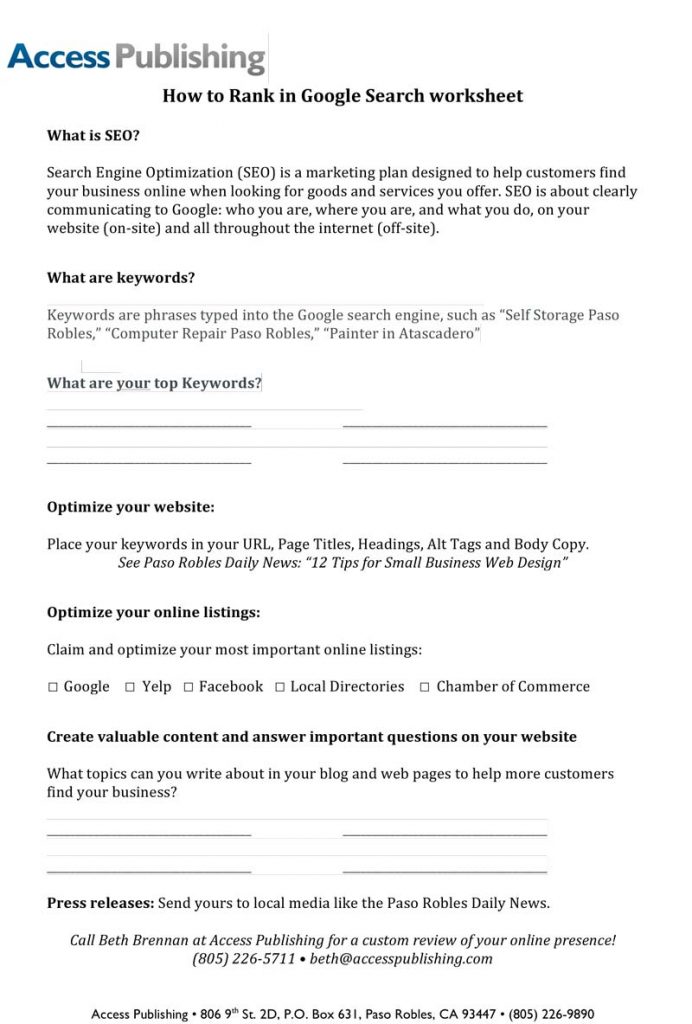 Access Publishing offers marketing solutions:
•
Professional business web design
•
Search engine optimization for Google ranking
•
Graphic design
and printed materials
• San Luis Obispo County Visitors Guide
• Paso Robles Daily News
•
A-Town Daily News
•
North County Access
•
Templeton Community Guide
• Heritage Ranch Directory
• Oak Shores Directory
For more information, questions or comments, call Access Publishing at (805) 226-9890.